These are the stars responsible for leading the young people's mental health reseach unit.
They meet regularly to share skills, knowledge and experience to make sure the unit grows from strength to strength.
Click on their names to find out about our backgrounds and areas of interest: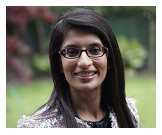 Prathiba is a consultant in child and adolescent psychiatry working in Stockport community children's mental health services.
She has an interest in the mental health and neurodevelopmental needs of children and young people in contact with the criminal justice system. Prathiba was involved in developing the mental health response following the Manchester Arena Attack (2017) and contributing to the national framework for psychosocial and mental health care following incidents and emergencies (Emergency Preparedness Resilience Response, EPRR). She continues to be research active as a visiting professor (University College London and Manchester Metropolitan University) and has been involved in a number of regional and national transformation programmes in her role as clinical advisor for NHS England.
Read more: https://www.england.nhs.uk/author/dr-prathiba-chitsabesan/
Sarah is a principal clinical psychologist, clinical academic, senior fellow of advance HE, and experienced in postgraduate programme and research leadership. Sarah is the strategic research lead for our young people's mental health research unit and a committee member of the faculty for children, young people, and their families within the British Psychological Society.
Research interests and outputs include unusual and distressing sensory experiences (e.g., hearing voices) during childhood and adolescence, help-seeking for psychosis related symptoms, workplace wellbeing in health and social care, and trauma-informed care within children's homes for care experienced young people. Sarah has published two books and a range of peer reviewed research in national and international journals. Sarah supervises doctoral clinical research in the areas of distressing sensory experiences, comforting experiences of voice hearing, early onset and first episode psychosis, and issues pertaining to decision making in CAMHS and early intervention services.
ORCID: 0000-0002-5666-1997 @drSarahParry
Simon has been involved in clinical research in the Greater Manchester area since 2002, starting out as a research nurse in 2002 at the then newly opened clinical research facility. Prior to research, Simon was a children's nurse in a variety of acute settings, including paediatric nephrology, surgery, burns and plastics, and as an advanced practitioner in preoperative assessment. Simon is currently the research and innovation manager at Pennine Care, responsible for the safe and effective running of research across the organisation, ensuring studies have the correct approvals, are appropriately funded and helping develop the internal capacity and capability of the trust to increase the breadth and depth of Pennine's research portfolio.
Lucy has worked as a research assistant at Pennine Care since 2021. Lucy previously completed a BSc in Psychology and MSc in Psychological Research Methods and Statistics at Lancaster University. Lucy's areas of interest include children and young people's mental health, neurodiversity and psychosis. Lucy is currently working on the BAY trial with Professor Bernadka Dubicka and Dr. Paula Hull.
Gordon works clinically with children and young people, and has worked in CAMHS services since 2006, with roles in community, inpatient and children who are looked after services. Gordon has published his research in relation to children's mental health and children's services in a range of peer reviewed journals.
Sonia is an advanced clinical practitioner in CAMHS and an active member of our research community. Previously, Sonia has worked as a research nurse for the NIHR in GM. Sonia has been a panel member in legislative theatre with the Optimistic Minds study for young people with lived experience of mental health challenges.
Alison has worked for Pennine Care as a CAMHS consultant since 2011. Alison was consultant to the Horizon IP unit from 2011- 2017, before moving to the newly commissioned Pennine community eating disorder service. Alison has worked as a consultant psychiatrist for the NHS since 1995, specialising in eating disorders, depression and self-harming/emergent personality disorder in adolescents. Alison held a tutor post with the University of Manchester and completed a RCT evaluating CBT for depressed adolescents in 1993, which was the subject of her doctoral thesis. Since then, Alison has been involved in two further RCTs with the University of Manchester. Since moving to Pennine Care, Alison has maintained her research interests and has conducted a small pilot study of the utility of a questionnaire, which was designed to aid in the assessment of internet use amongst young people presenting with eating disorders. Alison collaborates in research studies relevant to her clinical expertise and remains passionate about the role of research in guiding clinical practice.