Published on: 26th July 2019
One of our principal clinical psychologists presented his research at the World Congress of Behavioural and Cognitive Therapies in Berlin last week.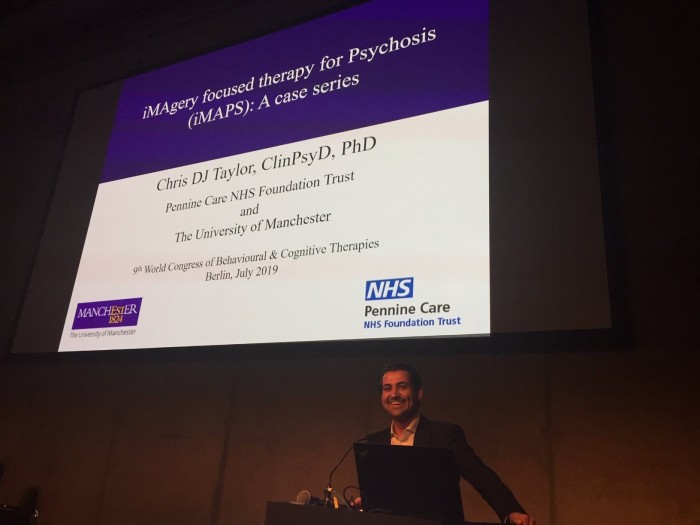 Dr Christopher Taylor, who is clinical lead and team manager of Bury secondary care psychological therapies service, chaired a symposium called 'Using Imagery when working with Psychosis' along with his colleagues.
The congress was attended by over 4,000 delegates from 85 countries.
Christopher's half-day workshop on imagery focused therapy for psychosis (iMAPS) also received great feedback and proved to be very popular. So much so that the demand for places greatly exceeded capacity of the room!
The research, funded by a National Institute for Health Research (NIHR) Fellowship, examines whether using imagery-focused cognitive behavioural therapy can help to reduce paranoia in people who experience psychosis. This focuses on negative intrusive images ("pictures in the mind's eye") and negative beliefs about yourself and others.
More information is available in an article that was recently published called 'Imagery focused psychological therapy for persecutory delusions in psychosis (iMAPS): A novel treatment approach." Click here to read it.
Christopher was joined at congress by his colleagues Professor Craig Steel (University of Oxford), Dr Georgie Paulik (University of Western Australia) and Dr Katherine Newman-Taylor (University of Southampton).
Christopher said: "I'm very grateful to the scientific committee of the congress for accepting our symposium and my workshop. It was a wonderful opportunity to present the work to a wider international audience.
"Thanks to the participants who took part in the study, my co-authors and colleagues for their input and the NIHR for funding this work.
"The next step is to apply for further funding to more rigorously test the approach and I'm also grateful to colleagues at Pennine Care for supporting these plans."