Military Veterans' Service (MVS)
We are a specialist psychological therapies service, for British armed forces veterans across Greater Manchester and Lancashire. We are a locally commissioned service hosted by Pennine Care.
Our team is overseen by a consultant clinical psychologist and includes: Clinical psychologists, cognitive behavioural therapists, eye movement desensitization and reprocessing (EMDR) practitioners, cognitive analytic therapy therapists (CAT), psychological wellbeing practitioners, a substance misuse worker and employment placement support workers.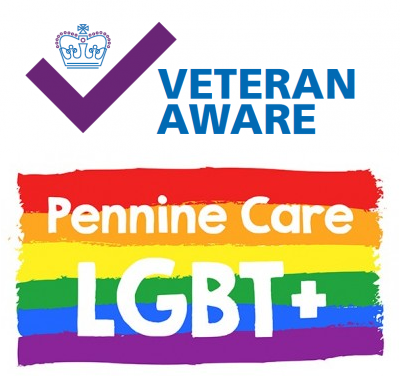 All of our team understand armed forces culture.
We appreciate that some veterans find it difficult to access support so, as a way to improve the service and build confidence, we ensure that a number of our staff are veterans themselves - or have family members in the forces.
We also work alongside a number of veterans who have been through our service to help us to continually improve the MVS.
We can support any ex-service personnel, if you are experiencing mental health difficulties related to your time in the military; if otherwise you've not had your needs met elsewhere and are prohibited from accessing mainstream services.
We offer a range of evidence-based treatments, for a number of difficulties that may have arisen from serving in the armed forces. This includes:
Anxiety
Depression
Post-traumatic stress symptoms
Alcohol and substance issues
Adjustment difficulties
Anger problems
We welcome referrals via phone or email:
Phone: 0300 323 0707 (Monday to Friday, 9am to 5pm).
Email: the.mvs@nhs.net
To make a referral, we will need you to answer the questions below. You can refer yourself, or a friend, family member or carer can refer you as long as you give consent beforehand.
For professionals making a referral (including charities, services, health/social care professionals), please see the tab below.
If you are referring someone else:
Is this referral for yourself?
If this referral is for someone else, do you have their consent for the referral? (consent must be sought prior to referral)
What is your relationship to the person you are referring?
Referrers full name and relationship to person you are referring
Referrers telephone number
Referrers email address
Essential client details - all questions stating "you / your" refer to the client
Have you served in the British armed forces?
If no, has a close family member/partner served in the British armed forces?
Which branch of the armed forces were you in?
What is your service number?
What is your relationship to an ex-British forces service person
First name
Last name
Date of birth
Home postcode of person you are referring
Contact number
Can we leave a message on this number?
Can we text you on this number?
Are you registered with a GP?
GP Surgery name:
GP address and postcode:
Have you accessed Op Courage/Military Veterans Service before?
If not, how did you hear about this service?
Veterans' stories:
Wayne and Mark have shared their stories about how the Military Veterans' Service has supported them:
We work closely with a range of statutory services and with a range of national and local charities. This partnership working supports engagement and relapse prevention.
For more information about this and other support in Manchester or Lancashire, please click the partnership working tab on our landing page.
Walking with the Wounded
We are in partnership with Walking with the Wounded and employ individual placement support workers in our team. These work alongside us to support veterans who have been in receipt of mental health treatment to get back into work. Click here for more info.
We have set up another page with frequently asked questions (FAQs) about our services, including:
Can I get priority treatment?
Can you give me a diagnosis?
Can you provide financial help?
Can I bring someone to my appointment?
Suspected war crimes?
Will you prescribe medication?
Can I take part in research?
Image: UK MOD © Crown copyright 2019