Published on: 15th August 2022
We've welcomed four family ambassadors to help parents and carers whose children are admitted to child and adolescent mental health services (CAMHS) inpatient units across Greater Manchester.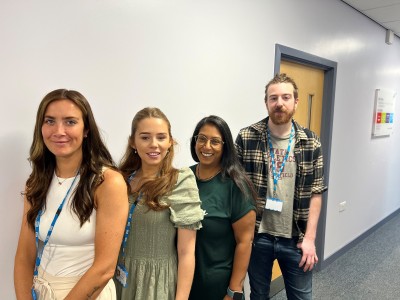 The new role is a 12-month pilot support to help reduce stress and anxiety and ensure parents and carers are involved with their child's care throughout.
It's part of our work for the Greater Manchester CAMHS lead provider collaborative - a partnership between us, Greater Manchester Mental Health NHS Foundation Trust, Manchester University NHS Foundation Trust, Cygnet Health Care and The Priory Group.
Jo Higham, head of the lead provider collaborative, explains: "It can be a dauting time for many parents if their child is admitted to a CAMHS inpatient service.
"Naturally they will have lots of questions about how their child will be supported and cared for."
The role is created by parents with lived experience, so will also help to improve the support all parents and families receive.
Panita Chouhan, one of our new family ambassadors, said: "I have my own personal experience of mental health and I want to use my experience to help families and children.
"Its important families know I'm there for them every step of the way – from admission to discharge. I'll help them with any questions or concerns they have; empower their voice in their child's care and support communication between themselves and the inpatient unit."
Gabrielle Lees, another of our new family ambassadors, adds: "Every family will have a dedicated family ambassador to support them. It feels great to know I'll be helping families and making a real difference.
"As well as providing emotional support we'll provide practical advice and information to help parents navigate the system and complexities."
Photo (left to right): Gabrielle Lees, Becky Greenwood, Panita Chouhan, Michael Martinez