We provide mental health, learning disability, and autism services to people across Greater Manchester and beyond.
Our vision is a happier and more hopeful life for everyone in our communities.
More than 3,800 dedicated staff deliver care from 88 different locations in Bury, Oldham, Rochdale, Stockport, Tameside, and Glossop.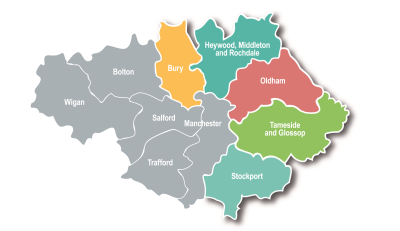 Our skilled workforce is from more than 100 different countries, and we are immensely proud of our diversity. Our four values (pictured) reflect who we are and how we do things.
Our mental health teams provide care and treatment for people with mild to moderate conditions such as depression, anxiety or dementia, or more serious mental health illnesses such as schizophrenia and bi-polar disorder.
We run more than 100 services which include psychological therapies, drug and alcohol services, psychiatric intensive care, rehabilitation services and military veterans' services.
Our learning disability services are for people with a moderate to profound level of learning disability, such as those with Down's syndrome.
We undertake and participate in extensive research, with dedicated research and innovation team. We also work in partnership with many different organisations, groups and communities across the NHS, health care, voluntary and charity sectors and private industries.
We are responsible for a £245 million annual budget and our strategy is based around four big ambitions, with an annual business plan.
Our purpose is to help to maximise people's potential to live healthier and more rewarding lives, while creating a great place to work.
Our four values and four big ambitions: